Adoptions
Cats and kittens fostered by The Cats' Cradle are featured on two websites.
Meet the furry crew at Petfinder.com
Or click below to see them on Purina's AdoptaPet.com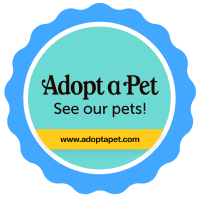 Come see them in person at PetSmart.
Our cats and kittens are available two full weeks every month in PetSmart Adoption Centers in Hickory and every week in Morganton. Adoption counselors are available from 10 - 4 on Saturdays as well as Sundays. Adoption counselors are available by appointment only during the week. Cats and kittens can be seen during store hours which are 9am – 9pm, Monday through Saturday and 10am – 7pm Sunday.
Adoption Fees
Single cat or kitten: $90.00 each

Senior Cat (6+ years old): $55.00 each
More details regarding why our adoption fee is $90. All of our rescues receive a full round of deworming (at least 3 with two different dewormers), they receive first vaccines and one or two booster vaccines, they receive a rabies vaccine and test negative for FeLV and are spayed or neutered. The average cost for each cat to become adoptable is $250-$300. Our adoption fee is $90 to help recoup some of the cost so we can rescue more cats and continue to treat the ones still in foster care that may have severe injuries or illnesses (broken bones, seizures, etc). We operate 100 percent on public donations. We do not have a building so we have foster homes only. All foster homes pay for food and litter out of their own pockets. We only want serious adopters to adopt our babies as we have had most of them since birth. Our cats often come to us injured and /or sick. They are treated for those of course. The treatment often involves eye medication and other medications like antibiotics. They may need blood work and x-rays and repeated visits for fluids. It is all to common they come to us with broken bones and need amputations, eye removals and ear surgeries. It can become really expensive to care for sick and/or injured rescues. The cost for those treatments are of course paid by CC and the adoption fee for those kitties still remain the same which is $90. Thank you for your support :)
For more information about adopting please call 828-461-0178.
Prefer email? Contact TheCatsCradleNC@yahoo.com
For other information, to volunteer, or to financially help in meeting the needs of the rescued cats and kittens, call 828-461-0178.
All Cats' Cradle kitties are in foster homes, they have been spayed or neutered, de-wormed and are up-to-date on their vaccinations. They are litter box trained and indoor only kitties.
We have a 30 day refund or exchange policy for those situations where the kitty does not bond with the family or resident animal.
Forms
Download the forms you need here.
The Cats' Cradle is a nonprofit, no-kill cat rescue operated solely by volunteers serving the Unifor area.
100 % of all donations goes directly to the needs of the cats and kittens in our care.